---
Official date 2013:
Rijeka (Croazia) 14-16 june 2013
Bled (Slovenia) 28-30 june 2013
Altenstadt (Germany) 12-14 july 2013
Belluno (Italy) 09-11 August 2013
Thalgau (Austria) 06-08 september 2013
Locarno 26-29 September 2013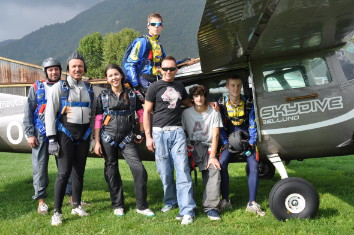 Scuola di paracadutismo sempre molto attiva a Belluno. Con la regia degli istruttori Corrado Marchet e Igor Miola vi presentiamo gli ultimissimi giovani che in questi giorni hanno terminato il corso di paracadutismo. Mattia Piccininno, Alberto Ronchi, Michele Cerentin, Michele Sperti, Alessandro Costa, Loris Valt, Moscetta Manolo e Luca Monchieri.
L'ASD Paracadutismo Belluno in collaborazione con l'Associazione Istruttori di Paracadutismo sta organizzando per il 27 e 28 OTTOBRE 2012 la prima fase di un corso istruttori . Per programmi e regolamenti contattare Vasco Zaina tel. 335-5303758 - mail: vzaina@alice.it
-Today are started the training jumps and we already have in Belluno two new canopy: Parafoil Gold and PD Zero. Mark Jones and Vittorio Guarinelli are happy to give you for check those new canopy.
---