Argus
---
At the start of 2009, the Parachute Association Belluno ( Italy), decided to bring her safety standard to the maximum level. The Association did so, by changing the traditional automatic activation devices (AAD's) build onto the school's parachutes, to the latest, state of the art, computerized CYPRES and ARGUS, multifunctional AAD. This system has digital software, which allows it, to be set for various purposes: student, expert, tandem or swoop.
In two cases we recently witnessed the proper functioning of the CYPRES/ARGUS; needless to say, that the Belluno staff is very satisfied with the modernization!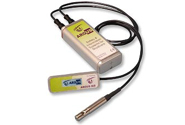 Versione Italiana:
All'inizio del 2009 l'Associazione Paracadutismo Belluno (Italia), ha deciso di portare ai massimi livelli il suo standard di sicurezza. Ha così sostituito tutti i sistemi tradizionali di cui erano dotati i paracadute della scuola con uno computerizzato, CYPRES e ARGUS, che funzionano con un software digitale.
Abbiamo avuto modo di verificarne il funzionamento in ben due casi e occorre dire che tutto lo staff è rimasto veramente soddisfatto.
---